Live Production Past & Present
Projects worked on include: Universal Studios, Legoland Malaysia, Sentosa Resort, Sunway Lagoon, Summer In Abu Dhabi, Global Village Theme Park, IDEX, San Diego Zoo, Paramount Park and many more.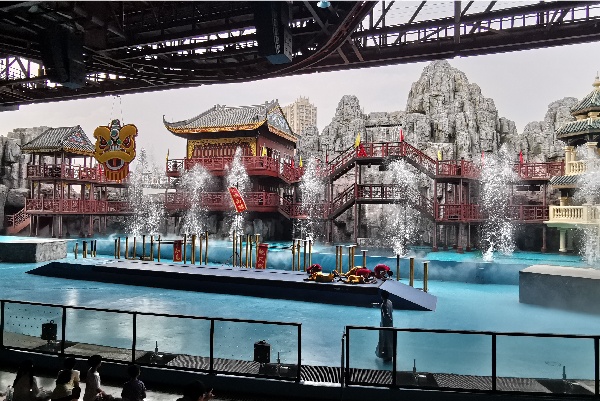 Legend of the Lion King
Once upon a time in Guangzhou…Wong Fei Hung and Miss 13 find themselves on opposing teams, competing for their Governors entertainment.
The teams challenge each-other through increasingly impressive stunts in Acrobatics, Parkour, Kung Fu, and Dance. Each team's Lions defy gravity with their heart-stopping Lion dance… Come and watch this fierce contest!
Thunder Chase
A LIVE STUNT MOVIE EXPERIENCE :
In a unique theater of 3000 seats. The biggest stunt show in China produced by an international team of 17 nationalities with SFX, Human torch, parkour, fight action, FMX, car&bike chase… only at global 100, Haikou, Hainan Island China.
We bring a turn key solutions from show concept to full production & operation, we deliver on time, on target and on budget… Get ready to be thrilled !!!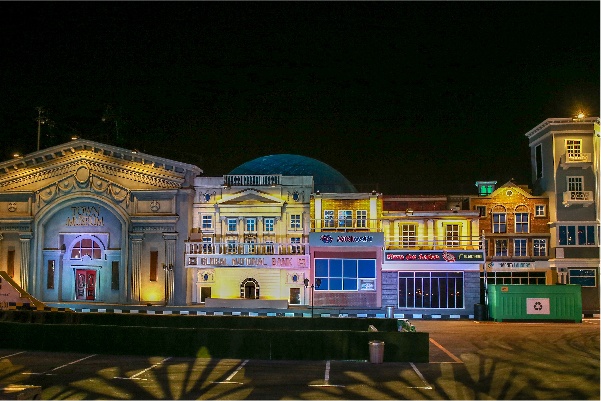 Speed Chase Action
For the 21st season, Showtime Entertainment Production produced the biggest Stunt Show for Global Village in Dubai.
25 minutes of daredevil stunts, unlike anything you've seen before.
All live! All Real! Speed… Chase… Action. Showtime Entertainment Production stunt show will take you on an action packed live show of chasing cars, bikes, buggy and daring stunts by some of the world's top stuntmen.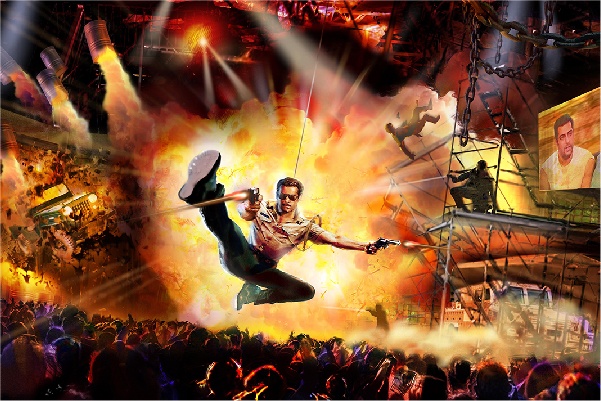 Dabangg Stunt Spectacular Show
Filled with unbelievable action, the best one-liners and Bollywood song and dance, Dabangg is set in the Indian State of Uttar Pradesh, join police officer Chulbul Pandey as he rescues his damsel Rajjo and her friends in an explosive spectacle to remember. Set in an abandoned warehouse, the bad guys are out to take revenge on Chulbul Pandey and kill him when he gets there. Can Chulbul Pandey, fight his way through explosions and bullets to save his love and live to tell the tale?
To find out, come to see this amazing stunt and a love story.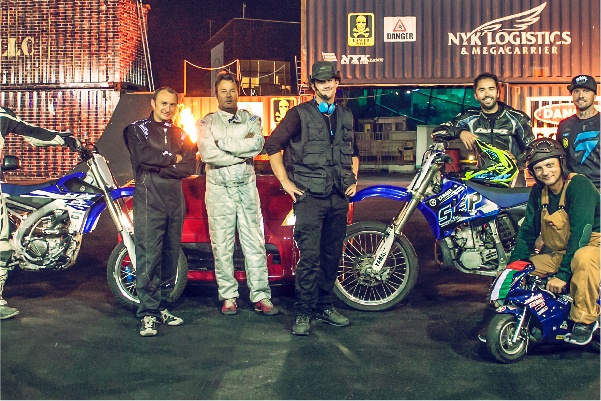 Hollywood Stunt Action Show
Get your first studio tour with us!!
Go behind-the-scenes to explore the famous Hollywood studio set!
Produced, choreographed and operated by Showtime Entertainment Production.
A melting pot of different scenes with car chase, synchronize driving, bikes and cars stunts, high fall, comedy and an audience participation.
Common maneuvers in stunt riding include wheelies, stoppies, burnouts, drift, and two wheel car driving… But your host Brian followed by his assistant Jim will be leading the story with gags, laughs and so much more! Come and have your Studio Tour.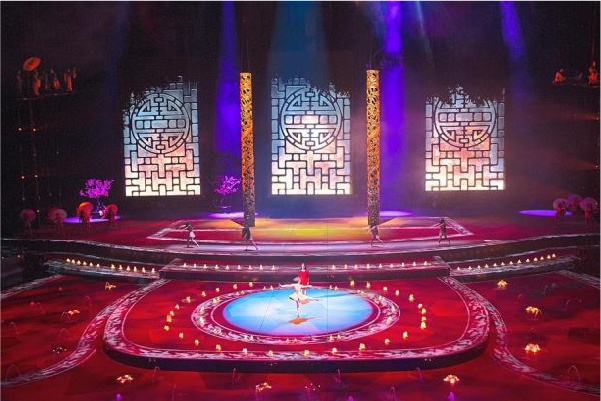 The Han Show
This electrifying show is inspired by the spirit of Han nationality, Chu-Han Dynasty and the city of Wuhan.
Dragone's "The Han Show" is a celebration of the essence of Han Culture in a theatre that has already become iconic. A fantastic and popular production, Showtime Entertainment Production was responsible for providing turnkey support solutions for all equipment and tech for both the jetski and the Flysurf components of this acrobatic stunt spectacular performance.
In conjunction with this, Showtime Entertainment Production held responsibility for casting, training, choreographic and movement design, training and rehearsals up to and beyond Opening Night. Since Opening, Showtime Entertainment Production has continued to supervise all operations in these areas, working directly with Franco Dragone in maintaining integrity of the show and keeping the talent and technology fresh and operating at full capacity.
The show is housed in a magnificent theatre, Designed by Mark Fisher and inspired by the "Red Lantern" mythologies; this theatre is 60 meters high and 100 meters in diameter, inspiring awe and wonder even before the show begins  each night. During the performances, great screens fly through the space on the largest robot arms ever made; augmented with world-class athletes and an audience of 2000 spectators.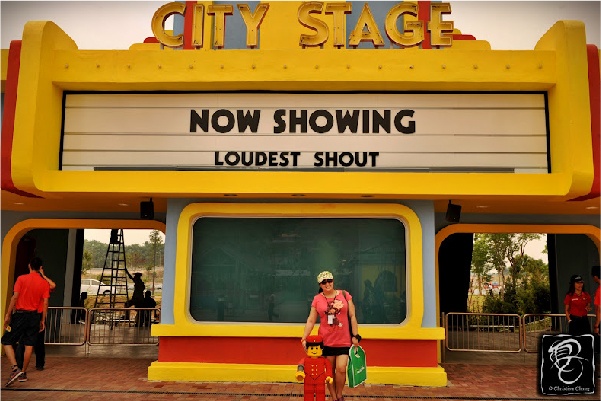 The Loudest Shout
"The Loudest Shout" is an original live show from Showtime Entertainment Production combining incredible stunt work, attractive characters, a funny story, a catchy song, a nimble dance and some jaw-dropping magic. Already described in web blogs as "awesome", the show has proved to be one of the most popular attractions at LEGOLAND Malaysia since the park opened in September 2012.
Based in a LEGO house, the performers play recognisable LEGO characters who must strive to become Danger Detectives and spot the hidden dangers in the home. Everyone in the audience has the chance to take part and to enthusiastically "shout out loud" whenever they see danger. In each show, somebody special gets the chance to come up on stage and help the characters as they search.
Showtime Entertainment Production have also created a complementary street act that roams the park with a reggae-style fun performance, recruiting guests for the main show.This is what we do and love; it's our expertise to create exciting and powerful live shows across the globe.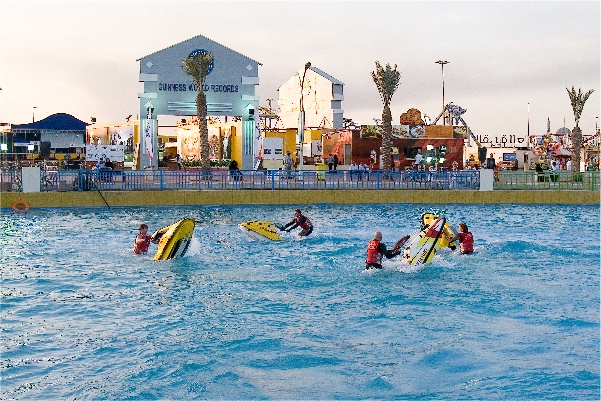 Global Village
For the past 8 years, Showtime Entertainment Production has been providing high quality shows for Global Village theme park, in Dubai – UAE.
Since we worked closely with them, for the first time the entertainment was vote by the guest as number 1 attraction in the park and again for the years later.
Addtionally, Global Village won an Award for the Best Live Entertainment in the GCC.
Produced:
Speed Chase Action
Hollywood Stunt Action Show
Beach Adrenaline show
FMX Spectacular show
Acapulco High Dive show
Globe of Danger show
Cultural Dance Show with African; Brazilian; Bulgarian; Irish; Cuban; Sri Lankan; Polynesian Dance show and more…
Street Act Show as Steel Pan, Fire Show, The Workers Percussion, Tanoura, African Acrobats and more…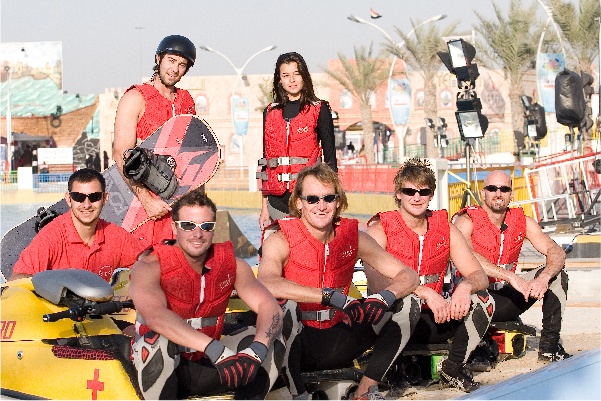 CNIA
Showtime Entertainment Production formed and trained the world's first freestyle Jetski display with 14 jetskis pilots in Abu Dhabi for the Critical National Infrastructure Authority (CNIA).
Tasked to conduct the training for six months, the team made their first inaugural public demonstration during the 40th UAE National Day show together with some of the world's top Jet Ski world champions. The CNIA team was formed, trained and choreographed by Showtime Entertainment Production and having UAE National Tour in Abu Dhabi, Dubai, Ajman and Fujairah.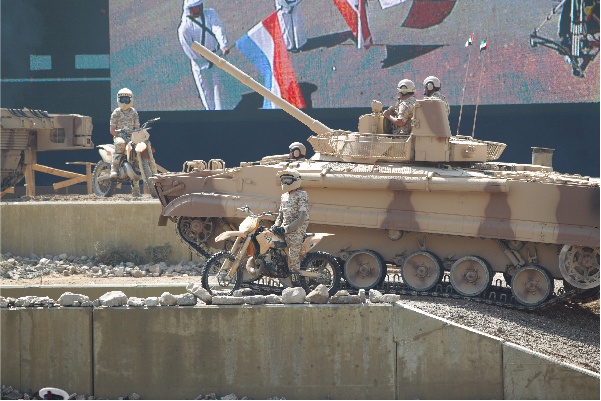 IDEX
The International Defence Exhibition and Conference, IDEX, is the most strategically important tri-service defence exhibition in the world, with over 50 different countries, 60,000 attendees. Showtime Entertainment Production was requested to produce the biggest stunt bike show for the Opening Ceremony in collaboration with the UAE Army and for the first time in the World, we had 23 bikes including: motocross, trials, quads.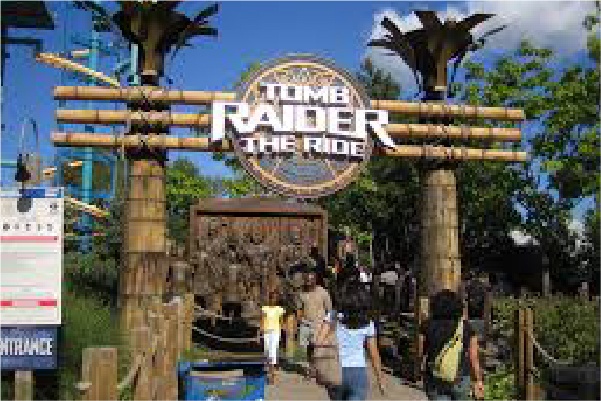 Paramount Park
We produced and managed an extreme jet ski show and Tom Raider Live Stunt Show at Paramount Parks in USA.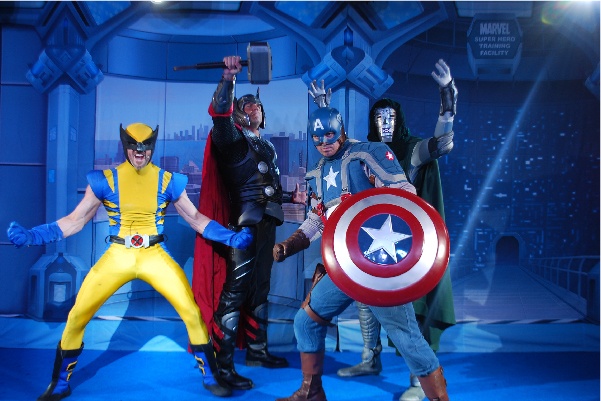 Marvel Stunt Show
Marvel has developed a new Interactive Show "Marvel Heroes" including : Spiderman, Iron Man, Captain America, Wolverine, etc…
Whether the Marvel Characters are taking part in Meeting & Greeting your guests or thrilling them with one of our interactive shows, the results will be the same – Excitement and fun for all!
We produced this show for Summer in Abu Dhabi festival for 6 weeks.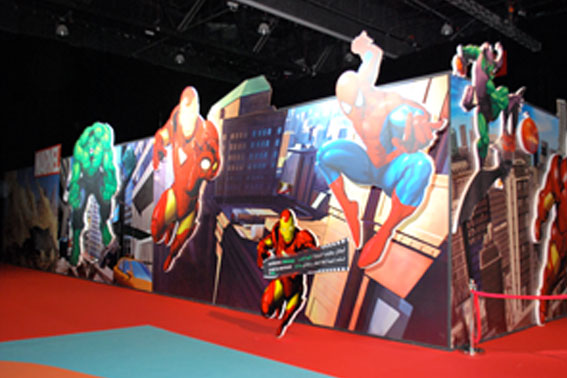 Marvel/Going Green
Marvel has developed a new interactive show "Marvel Heroes: Operation Green" to teach children and families about the importance of "going green" and protecting the environment.
In "Marvel Heroes: Operation Green" Spider-Man, Captain America, Iron Man and even the Green Goblin come together to teach audiences ways to conserve energy, recycle and live a green lifestyle. There could not be a better way to illustrate the importance of saving the environment than by having the #1 superhero in the world, Spider-Man, and his amazing friends teaching families and children ways to go green and protect the environment.
Whether the Marvel characters are taking part in meeting & greeting your guests or thrilling them with one of our interactive shows the results will be the same: excitement and fun for all!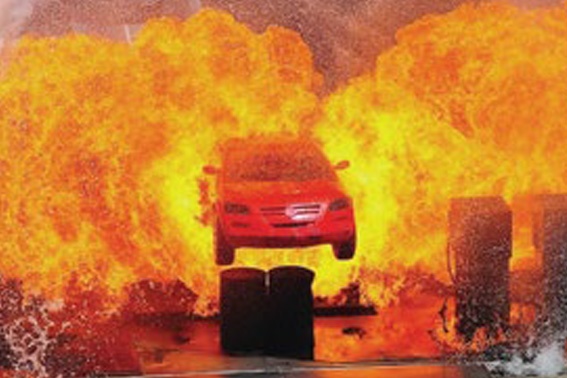 Motor Action Stunt Show
A live action spectacular that presents the 'how-to' of the world of a Hollywood stuntman. The show unveils some of the secrets of stunts from popular Hollywood blockbusters.
This show is unique because it features the setup and coordination that goes into creating REAL Hollywood stunts and focuses on the equipment and skills needed to perform dangerous action sequences.
The thrilling show features a full body fire burn, car and motorcycle stunts, high falls with air bags, extreme fight scenes, sword play and, of course, pyrotechnic and flame explosions.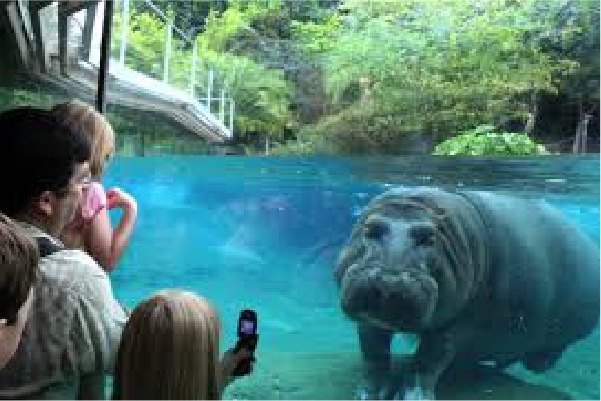 San Diego Zoo
S.E.P produced an educational show called the Drip Dudes and Street performance called The Stilt Birds.The troupe of performance artists made a very favorable impression on the members and guests throughout their run at the Night time Zoo promotion. The message and environmental theme was certainly appropriate for our zoo and done in an educational, yet very fun manner.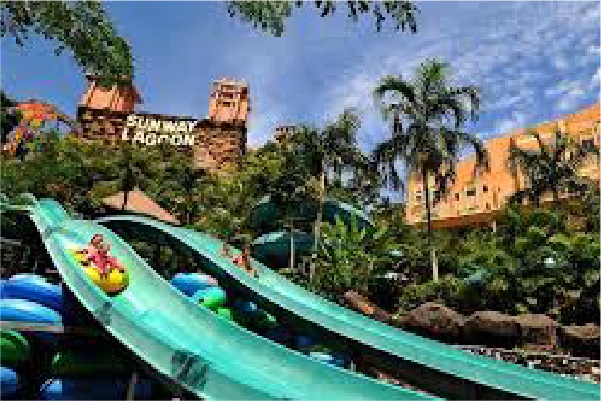 Sunway Lagoon
We have been producing extreme sports shows and street acts for the theme park and water park for Sunway Lagoon in Malaysia.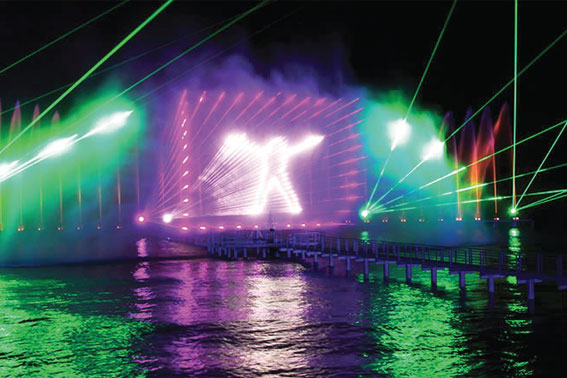 Multimedia Water Show
This water show includes light installations and special FX. Water fountains, pillars of fire, lasers and special FX, as well as synchronized film clips and music combine to create a show the entire family will love. High-tech projectors show razor-sharp film clips on a water screen, while 200 continuously adjustable water jets, 4 lasers, 50 spotlights and 2 water screens are also used in each evening's performance. SEP is able to do temporary or permanent multimedia installations.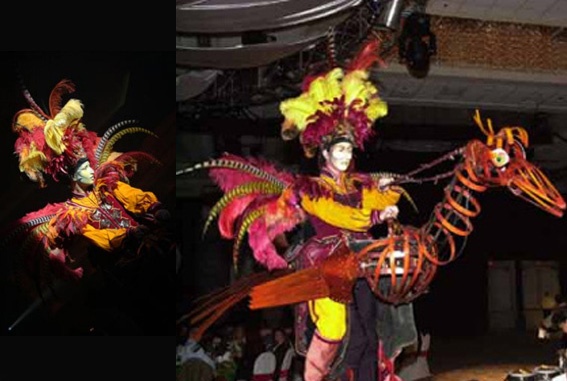 The Stilt Birds
The Stilt Birds is entertainment like you have never seen or experienced before. These tall, graceful birds are fully articulated wooden puppets controlled by skilled stilt performers.Your guests will experience spectacular birds with all the color and finery of a supernatural creature. Led by their ever-watching shepherd, these animated birds interact with their audience – a gentle head tilt, the graceful movement of a feathery crest, or inquisitive beak will take your audience's breath away.The Stilt Birds may appear to the accompaniment of live or pre-recorded music, perform either indoors or outdoors, and present well both in intimate and large-scale settings. 
Live Show Production
We have worked on Live entertainment production in the Middle East, Asia, Europe & America. With more than 26 amazing years generating unforgettable experiences, we provide live entertainment design, production & operating for water parks, theme parks, festivals, zoos and more."
Call us! We will be delighted to be your Entertainment Production Team!
Subscribe to our Newsletter

2019 ©Showtime Entertainment Production Copyright. All Rights reserved   |   Web design MSM Web Solutions